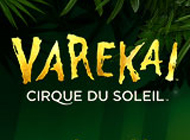 Feb 26 - Mar 2 , 2014

Tickets are available now through ticketmaster.com,
at the Cedar Park Center Box Office and by phone at 1-800-745-3000. All children 2 years of age and older must have a ticket for entry.

FRONT ROW PACKAGE
Enjoy this NEW seating option at Cirque du Soleil - sit FRONT ROW in extra comfortable padded chairs! There are a limited number of seats per show. Book your front row now!


Starting at $40 for adults
Child, senior and military pricing also available

General: $15
Valet: $20
CASH ONLY
Cirque du Soleil Varekai
Cirque du Soleil will perform its newest arena show, Varekai, at Cedar Park Center from February 26 - March 2, 2014 for seven performances only. Cedar Park Center will be Varekai's ninth tour stop since it embarked on a new journey this past December touring the world in arenas.

PREVIEW THE SHOW
About Varekai
Deep within a forest, at the summit of a volcano, exists an extraordinary world a world where something else is possible. A world called Varekai.
The sky lets go a solitary young man, and the story of Varekai begins. Parachuted into the shadows of a magical forest, a kaleidoscopic world imbued with fantastical creatures, a young man takes flight in an adventure both absurd and extraordinary. On this day at the edge of time, in this place of pure and undiluted possibility, begins an inspired incantation to a life rediscovered and to a newly found wonder in the mysteries of the world and the mind.
The word Varekai (pronounced ver•ay•'kie) means "wherever" in the Romany language of the gypsies the universal wanderers. Directed by Dominic Champagne, this production pays tribute to the nomadic soul, to the spirit and art of the circus tradition, and to those who quest with infinite passion along the path that leads to Varekai.
Cirque du Soleil
From a group of 20 street performers at its beginnings in 1984, Cirque du Soleil is a major Québec-based organization providing high-quality artistic entertainment. The company has 5,000 employees, including more than 1,300 artists from more than 50 different countries.
Cirque du Soleil has brought wonder and delight to more than 100 million spectators in more than 300 cities in over forty countries on six continents. For more information about Cirque du Soleil, visit www.cirquedusoleil.com.

Event Times
Wed, Feb 26, 2014

at

7:30 PM

Thu, Feb 27, 2014

at

7:30 PM

Fri, Feb 28, 2014

at

7:30 PM

Sat, Mar 1, 2014

at

4:00 PM

Sat, Mar 1, 2014

at

7:30 PM

Sun, Mar 2, 2014

at

1:30 PM

Sun, Mar 2, 2014

at

5:00 PM
Group Sales
Take advantage of discounted prices and group incentives while gathering your clients, employees, church group or scouting organization to attend any of these exciting events. Reservations: To reserve your group tickets please call 512-600-5013 or email the group sales department at groups@cedarparkcenter.com
Cirque du Soleil just made spending time with friends & family or networking with colleagues & clients even better. Enjoy the show as a group of 12 or more and SAVE UP TO 25%! For more information contact Sheana Smith at 512-600-5013 or ssmith@cedarparkcenter.com.